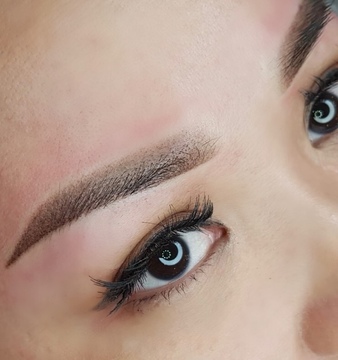 Whether your brows are thin, sparse or uneven, brow tattoo will add fullness and definition thus framing your face for a more polished look. Your new effortless, waterproof, frustration-free, perfectly designed brows will save you time in the mornings, restore your confidence and give you the peace of mind knowing your brows will not disappear during the day.
With an artist's eye, I custom design the brows to enhance your unique face and create a more youthful look. Eyebrow trends have changed through the years, but the natural look is always in style. By using the latest hair stroke and ombre techniques, I aim to achieve most natural looking eyebrows that are both realistic and authentic to your style.
Your session begins with an evaluation of your skin, facial features, and goals to determine the best outcome. With a use of a pencil I will create a perfect brow design just for you and, after your approval, I'll deposit the pigment into your skin. The anesthetics are used before and during the procedure to ensure you are comfortable. The session takes about 2 hours. Color boosts are recommended every 1 to 2 years.
Right after the procedure, the color will appear dark but will fade 20-40%. Due to the inflammation/redness of the treated area, the color might seem warmer but will change while the skin is healing/exfoliating and should not be judged for a least a month after.